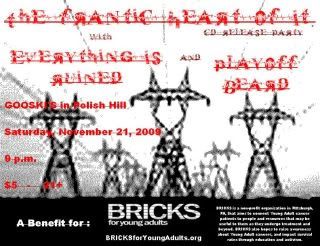 Please join BRICKS next Saturday, November 21st for a benefit show hosted by local band
The Frantic Heart of It
. This is no ordinary cd release or benefit show- it goes so far beyond that.
On March 17th, my husband Rick passed away from Hodgkin's Lymphoma. On that very same day, another young adult in our little punk rock community was diagnosed with leukemia. I will never forget sitting on my living room couch that day, my good friend standing in the kitchen taking a phone call. His hand went to his face at the news he was hearing. Doug had cancer. Rick died not 12 hours earlier from the same evil disease. Could this really be happening? How much could we all take?
At the time I only peripherally knew Doug through other friends, I dont even know that we had ever met "in real life". But that day he became my brother, walking down the same road I'd been traveling for so long. Cancer was not something that was going to be out of my life after my husband died. It reaffirmed my desire to do something with everything I had learned.
I've kept up with Doug and his beautiful family, and now some 8 months after his diagnosis his band is putting out their long awaited cd. This show will be a celebration of so many things, and I hope as many of you as possible will be able to join us. I'll be there armed with all sorts of materials and free information for people. Bring your dollars and buy the band's cd. Buy them a round of drinks. Celebrate being alive.



The Frantic Heart of It

cd release show
with special guests
Everything is Ruined
Playoff Beard

at Gooski's in Polish Hill
3117 Brereton St, Pgh
Saturday, November 21, 2009
9pm, 21+, $5